QUINCE DRESS IDEAS: Red Carpet Trends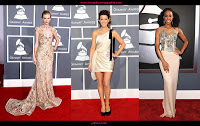 It's award season and the Grammys was filled with many surprises and dramatic performances. Jennifer Hudson paid tribute to singer Whitney Houston by singing Houston's song "I Will Always Love You." Adele stole the spotlight with her moving performance of "Rolling in the Deep" and took home trophies for Album of the Year, Record of the Year, Song of the Year, Best Pop Vocal Album, Best Short Form Music Video, and Best Pop Solo Performance. Bon Iver won for Best New Artist and Best Alternative Album while Chris Brown was awarded for Best R&B Album. Just as exciting as the award ceremony was the fashion on the red carpet. Stars arrived in breathtaking outfits and here's how you can dress like a celebrity at your quince.
1. Intricate Designs – Taylor Swift stepped outside her fashion comfort zone as she walked down the red carpet on a dramatic and form fitting gold gown. The intricate designs and high collar garnered much attention. For a similar approach, select a gold dress for your quince. Pick one that has lots of sparkling or shining details. Also, a high collared dress is classy and unique.
2. Greek Goddess – Go for a timeless look with an elegant white dress. A one-shouldered dress is regal and graceful. Also, a short dress allows for more movement on the dance floor. A white dress allows for dramatic or bright jewelry. Pair an all-white dress with gold bangles or chandelier earrings for a look that will have all eyes on you.
3. Glamorous Gold – Paris Hilton was also one of the best-dressed celebrities on the red carpet. Her white dress with subtle gold details looked lovely and sophisticated. A belt accentuated her slim waist and made the look more modern. For a similar style, select a dress with delicate decorations. Add a belt and you've got your perfect quince outfit!
4. Blossoming Flowers – Whereas Hilton's dress brought attention to her waist, the sparkling flowers on singer Kelly Rowland' s dress focused on her upper half. Rowland's pale pink dress contrasts beautifully with the silver flowers. Flowers are a feminine way to glam up an outfit. A dress with floral designs looks great with delicate jewelry and natural-looking makeup
What's your favorite look? Check out our quince dress gallery for more ideas.
-By Lauren Ho
You might also like:
DRESS LIKE A CELEBRITY
KENIA SOSA TURNS QUINCE
CELEBRITY QUINCE TRENDS: Kendall Jenner's Sweet 16