CELEBRITY QUINCE TRENDS: Kendall Jenner's Sweet 16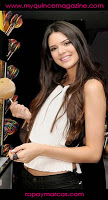 My Quince saw the footage from Kendall Jenner's Sweet 16 Party that was aired on 'Keeping Up With the Kardashians'. Although Kendall was celebrating her sweet 16, here are some great tips and trends that you can incorporate into your quince. Read on to find out how to throw the perfect quince for friends and family as well as great quince ideas!
Photo booth. You can't go wrong with a photo booth at your quince. Great fun for all age groups, a photo booth is sure to please all your guests. Outside of the photo booth, set up a table filled with props, such as large sunglasses, bright colored hats, or feathered boas. Guests can take silly and funny or sweet and cute pictures. Kendall's photo booth was a hit with her friends as well as her older sisters and their husbands. Leave guests with priceless memories and a fun keepsake from your quince.
Finger food. For her birthday venue, Kendall fell in love with the luxurious and trendy Andaz Hotel, which featured a rooftop pool and a huge room for the dance floor. Her party food, however, was small and simple. To complement the huge venue, Kendall wanted to serve mini hamburgers and small portions of fries. You don't have to serve elaborate and fancy dishes at your quince. Share with guests your favorite foods, regardless if the foods are commonplace. In addition, bite size portions guarantee that guests won't feel too full to get on the dance floor later.
Click here for great local quince caterers!
Candy bar. Kendall's younger sister Kylie arranged for candy from Kendall's favorite candy shop to be present at her party. Your quince focuses on you so include your favorite sweet treats at your big celebration. Have a station filled with jars of your preferred candies, candy apples, and lollipops. Another great idea is to have a chocolate foundation with lots of foods to dip into the fountain, such as fruits, pretzels, and marshmallows. Not only will guests love this but also the bright colored sweets create a vibrant and attention-grabbing display.
Video montage. Another surprise that Kylie arranged was creating a video montage for her sister. Featuring family photos and memories, the video was a great way to capture Kendall's transition from a young child to a blossoming teen. Ask a friend or family member to create a video or slideshow to be presented at your quince. A quince is about your step into adulthood and this should be showcased at your event. Friends will enjoy learning about your childhood and family members will feel nostalgic as they remember their memories with you.
Click here for great local videographers!
Live entertainment. Fire jugglers and dancers provided entertainment at Kendall's sweet 16 but the main attraction was rapper Tyga's surprise performance. Provide great entertainment at your quince by booking dancing or performing acts. Live performances will excite and amaze guests. Consider having a live band, singer, or group of dancers at your quince. Book acts that you love and also consider acts that match your quince theme. For example, circus performers are perfect for a circus-themed quince. Hula dancers or fire throwers match well with a Hawaiian or tropical-themed quince.
-By Lauren Ho
Find: Quinceañera Venues • Quinceañera Dress Shops • Quinceañera Vendors • Chambelan Tuxedos