My Fabulous Quince Expo 2012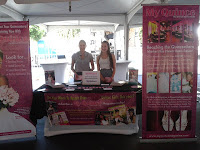 Hello Quince girls!
On July 21st, My Quince Magazine participated in the My Fabulous Quince Expo sponsored by Verizon Wireless in Chino, CA where one lucky girl will win a $45,000 Quinceañera Party along with Daddy Yankee performing at the party!
Upon arrival, everyone received a gift bag that was filled with goodies that included lots of fun stuff, plus informational brochures. The crowd was entertained with mariachi singers and interactive games where you could win some great prizes. Some of the games included dancing competitions, catwalking across the stage, and modeling with a Verizon Wireless cell phone. Roxy's Bridals also hosted a fashion show displaying all the newest and trendiest Quinceañera dresses that included animal prints.
While everyone was enjoying their horchata and paletas, My Quince held a giveaway for one lucky Quince girl to enjoy a dinner at Pirate's Dinner Adventure for a party of four. The participant had to dance across the stage and whoever pleased the crowd the most after showing off their dancing skills received the prize. Missed the giveaway? No worries, because My Quince is hosting another giveaway for one lucky girl to win a Quinceañera dress worth $1,000! Click here for more information.
After the success of our giveaway to one lucky quince girl, the arrival of the Puerto Rican rapper shifted the crowd from the outdoor Expo to the Verizon store for pictures and autographs where Verizon was able to upload the picture onto their website available for download!
Overall, My Fabulous Quince Expo was a fun experience. It was very generous of Verizon to provide this opportunity for one lucky to have their "dream" Quinceanera. It was also very informative and gave great ideas for those who are planning for their big day. The winner of My Fabulous Quince is still unannounced as Verizon is reading through the applications. Please check out our event calendar for similar expos in your areas.
– By Tina Chen
You might also like:
QUINCE EXPO EXPERIENCE
FROM THE EXPERTS: Your Ideal Quinceañera Venue
GET QUINCE TIPS: Planning Your Quinceañera