QUINCE EXPO EXPERIENCE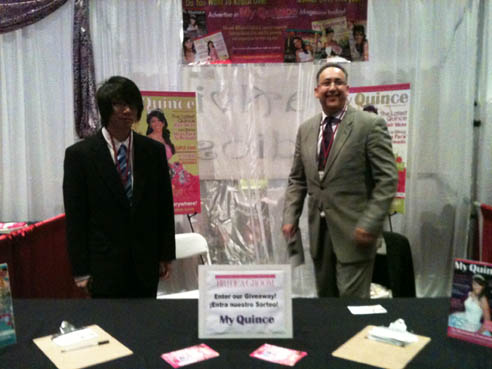 Hello Quince girls!
We are here to tell you about the awesome Teen Party Expo that we went to this past Sunday on March 13th. The expo, held at the Los Angeles Convention Center, was packed with people. There were stations filled with everything that a girl needs to be considering when planning her quinceañera.
There were photo booths, dresses, and floral arrangements. Some of the more unconventional stations included eyelash extensions, bra straps, and glitter tattoos. The cakes were so pretty and super yummy!
The My Quince table was busy and we were really excited to meet a lot of you. We got a chance to let girls know about our amazing sweepstakes to win their dream quince dress. If you haven't heard about our fabulous giveaway, check out our page HERE, where you can apply online. The girls at the Teen Party Expo got a chance to see our newest issue! Don't miss your chance to get the latest My Quince magazine, subscribe today.
We could not miss the fashion show with models strutting down the stage in gorgeous outfits that definitely seemed fit for spring. The bold prints, lime green, and pale yellow dresses reminded us of blooming flowers while the classic pink and white dresses made us feel like we were looking at a princess. Chandelier earrings and sparkling tiaras made the dresses even more glamorous.
Being at the expo was a great experience. It is definitely helpful for girls that don't know where to start when planning their quinceañera because here you will find all of the things that you need to be thinking about and all in one place. The creative and fun displays provide great ideas and the vendors provide tips and advice to any questions that you might have. We highly recommend that you check a quince expo out, check out our Event Calendar for upcoming quince events. You never know where inspiration will hit!