FROM THE EXPERTS: Your Ideal Quinceañera Venue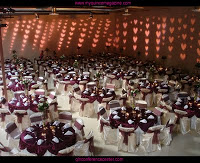 The first step in bringing together your perfect quinceañera vision is finding the right venue, or location. After all, the venue sets the atmosphere and tone of your quinceañera. The venue entrance determines how much of a statement you'll make as you present yourself to guests and the surrounding scenery will either get your guests in the mood for fun or elegance. Because the venue is so important, we present you with these tips from knowledgeable insiders on choosing the perfect venue!
1. Rent a venue in a slow time of the year. "Venues are like hotels – they don't make money standing empty. See what's available, and see if the venue organizers are willing to negotiate," says Albert Mendez, an Atlanta-based hotel and restaurant expert. Community centers, convention halls, and conference forums all have slow periods in the winter and early spring. While they might go for a bargain, the downside is these facilities don't provide catering or supplies such as linens and tablecloths.
2. Consider choosing a wedding facility. "Practically nobody gets married in months like December, January, and February," says Roberto Caño, the manager of a Los Angeles wedding ballroom. "The wedding season doesn't really pick up until May. For the rest of the time, the hall and the kitchen usually just sit around idle." Like other venue slow periods, booking a wedding facility during these months may allow you to negotiate or pay a cheaper price.
3. Choose a venue that complements you. But the most important part about picking a venue is not money, but thinking about what setting complements your ideal theme and personality. If you love the outdoors, a venue with a large, sprawling garden would probably make a good fit. Or, if you're more of the outgoing and social type, using a larger venue to recreate a beach party might also offer a solution.
4. Tour each facility. Website images and brochure photographs can be carefully staged to give an unrealistic look at the venue's space and condition. "There's no substitute for actually walking around, looking in the corners and seeing if the floors are clean," Caño says. "Ask yourself if you feel comfortable with it. Would you recommend it to friends? Would you want to be a guest there?" We suggest touring each facility, either on their "open house" days or by appointment with a facility-booking agent.
Experts say the venue is ultimately like a blank slate or stage on which to produce your quince celebration. The right backdrop – the right "setting" – can go a long way to creating the kind of fiesta you'll remember for a lifetime.
Click here to check out our long list of Quince Venues!
– By Lauren Ho