GET QUINCE TIPS: Choosing Your Bouquet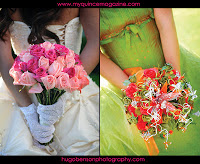 The traditional quinceañera bouquet choice has always been fresh flowers but wire beaded flowers have become an increasing popular trend. Ranging from large to small, bouquets are the focal point of every quince outfit as they emphasize the dress and often add a pop of color to your appearance. Whether to stay with the tradition or not depends solely on the direction you want your quince to go. Here are some pros and cons to consider when selecting what type of quince bouquet is right for you.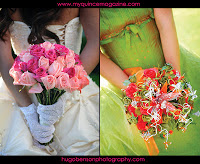 1. Theme.
A big aspect to consider is your quince theme and how to model your bouquet to suit the atmosphere of the venue. Wire flowers are great if you want trinkets or decorations with your arrangements. For example, if you're having a butterfly theme, colorful and pretty butterflies can be made as a part of the wire bouquet arrangement. If you want the flowers in your bouquet to also be a part of the centerpieces then fresh flowers may be better because they can be incorporated into all kinds of arrangements.
2. Time of Year. Also consider the season in which you're holding your quince. Flowers that are outside in the summertime will wilt faster than flowers kept in a cool room during the fall. Therefore, a wire bouquet may be preferable for hotter days, as they will last all day. Fresh flowers are preferable for conditions in which they will not wilt quickly.
3. Budget. Just like you have to consider the seasons when thinking about how long they will last, also consider the seasons when deciding on how to buy flowers that fit within your budget. Flowers that are in season are cheaper and may be less expensive than wire flowers. However, depending on what type of fresh flowers you want, typically wire flowers will be the more cost-efficient choice.
4. How Long It Lasts. Fresh flowers last for about a week but wire flowers can last forever. If you would like to keep your quince flowers as a memento you can store them with your dress for as long as you want. On the other hand, most quince girls don't know what to do with their flowers after their quince is over and don't want them taking up room space. If that's you then fresh flowers are a great choice.
5. Tradition. Fresh flowers have always been the traditional choice as fresh flower bouquets are used in the church ceremonies and typically offered at the altar. If you want to follow these traditional rituals fresh flowers may be a better choice. If you are taking a more modern approach to your quince and don't mind straying away from the traditional then you may be more interested in wire flower bouquets.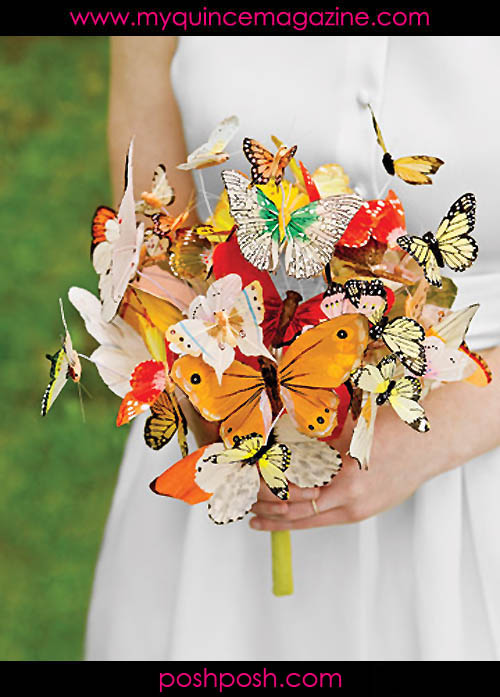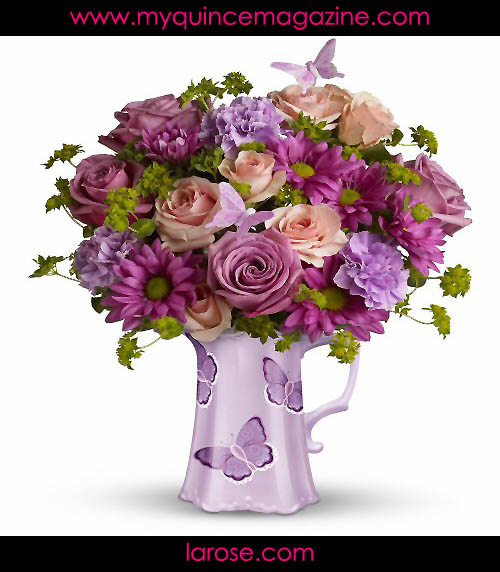 6. Personalization.
Creativity is definitely an element of floral arrangements. If you want to personalize your bouquet and centerpieces then fresh flowers are better because you have more flexibility to include them in all different styles and variations whereas wire bouquets may be pre-made and sold just as they are.
Which bouquet do you prefer? Click here to find great local quinceañera florists!
– By Lauren Ho/Jennifer Jimenez
You might also like:
QUINCE FLOWERS
GET QUINCE TIPS: Have Your Unique Invitations
GET QUINCE IDEAS: A Red Hot Theme