GET QUINCE IDEAS: A Red Hot Theme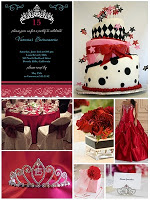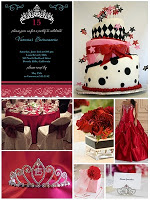 ¡Al Rojo Vivo! This hot color is seen all over the "red" carpet, not only is it a primary color, but it looks great on us, Latinas, because of our rich skin tones. If you think red is too bright for you, consider deeper or softer shades from the red family. There are pinkish-oranges like cerise; orange-reds; purplish-reds like burgundy; burnt reds, like sangria. These varieties of red can be fun to add to your quince and create a whole "Red Theme." For your dress you can have red accents or wear a full red dress, see our quince gallery. A red dress can make you feel confident, and remind you that you OWN the spotlight! You could also pair up red with other colors, like pink or black and white. Tiny Prints Blog created this inspiration board that shows the many different ways you can use this hot color.
In Asian cultures, red means joy and prosperity, which is why Chinese brides wear red gowns instead of white ones. Business people wear a touch of red when they want to give a strong impression. The red carpet for celebrities gives them special distinction. If you want to add symbolism to your quince, red will represent your courage, enthusiasm, energy, and confidence for pursuing your dreams. Like red roses on Valentine's Day, it symbolizes your passion for life. Like red lipstick, it's all about elegance and glamour.
The word red has special meanings, and why not use them in your quince.
• "Red letter day" — a day of special significance
• "Red flag" — means to be aware; save the date!
• "Roll out the red carpet" — means to make someone feel extra special or like a celebrity.
• "Paint the town red" — means to celebrate or go out partying.
Red makes a great theme in February because of Valentine's Day, in July because of Independence Day, and in December because of Christmas. Also, during these times of the year, you will find a greater amount of red-themed decorations to choose from. Tell us, do you have any other "red hot" ideas?