GET QUINCE TIPS: Have Your Unique Invitations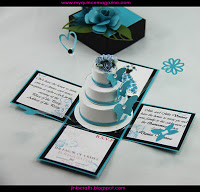 An invitation is the first impression of your quince. It is an essential part because not only does it inform guests of information, such as location, time, and date, but the theme and set up of the invitation gives guests their first impression of your big day. Whether you're aiming for a fun, elegant, or glamorous fiesta, here are the ideas to create the perfect quince invitation:
1. Message in a bottle. Nothing is better for a carefree or beach-themed quince than telling guests about it with a message in a bottle. Roll up the paper with all your quince information and place it in a bottle. Then, fill the bottle halfway with sand and seashells to invoke images of the beach and sea. Also, you can engrave the bottles with a message or date of your special day. This cute and creative invitation is sure to leave guests pleasantly surprised.
2. Magic boxes. Have your invitation be in a box neatly wrapped with ribbon that family and friends will have to unwrap to find out more about. Like a present, they'll love unwrapping it to find a treat inside. When they open the box, a 3D cake appears in the center of the box and the information about your quince is written inside the flaps of the box. This sweet surprise is a unique and fun invitation idea that is sure to impress guests.
3. Elegant scrolls. Another unique idea is to print your quince information on a scroll and roll it up as your invitation. Fabric scrolls with tassels look elegant and regal. After, place the scroll into a compact box and deliver it to loved ones. This idea is great for princess and fairytale themed quinces. Some elegant color combos to try are burgundy scrolls with gold lettering and gold tassels or navy blue scrolls with silver lettering and silver tassels. Feel free to experiment with all types of different combinations to find the perfect one to match you.
4. Booklets and bookmarks. Break away from the traditional card invitation format by sending invitations as booklets or bookmarks. With a booklet, you will be able to offer more information and style to your guests. In booklets you can include poems, pictures, or more decorations. Also, a bookmark is a pleasant and simple way to tell guests about your quince and afterwards guests can use it when reading. Bookmark invitations are great for girls who are avid book lovers.
5. Personalized stamps. Give family and friends a hint about your quince before they even open their invitation with personalized stamps. This small and often overlooked detail adds a nice touch that guests will appreciate. With personalized stamps, you can decide what image you want on your stamps or what you want them to say. Whether you want an image related to your quince theme, a picture of yourself, or certain words on your stamps you can bring to reality any type you want.
Click here to find local quinceañera invitation vendors!
– By Lauren Ho