GET QUINCE IDEAS: Fashion Trends From The Grammys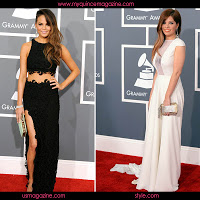 The biggest night in music is over but the new fashion of2013 is just beginning. Some of the winners of Grammy night were F.U.N. for Song of the Year and Taylor Swift for Best Song Written for Visual Media. However, the Grammy's red carpet was filled with beautiful women whose dresses, hair, and accessories were the true winners of the night. Here are some trends we found that you want to incorporate in your quince.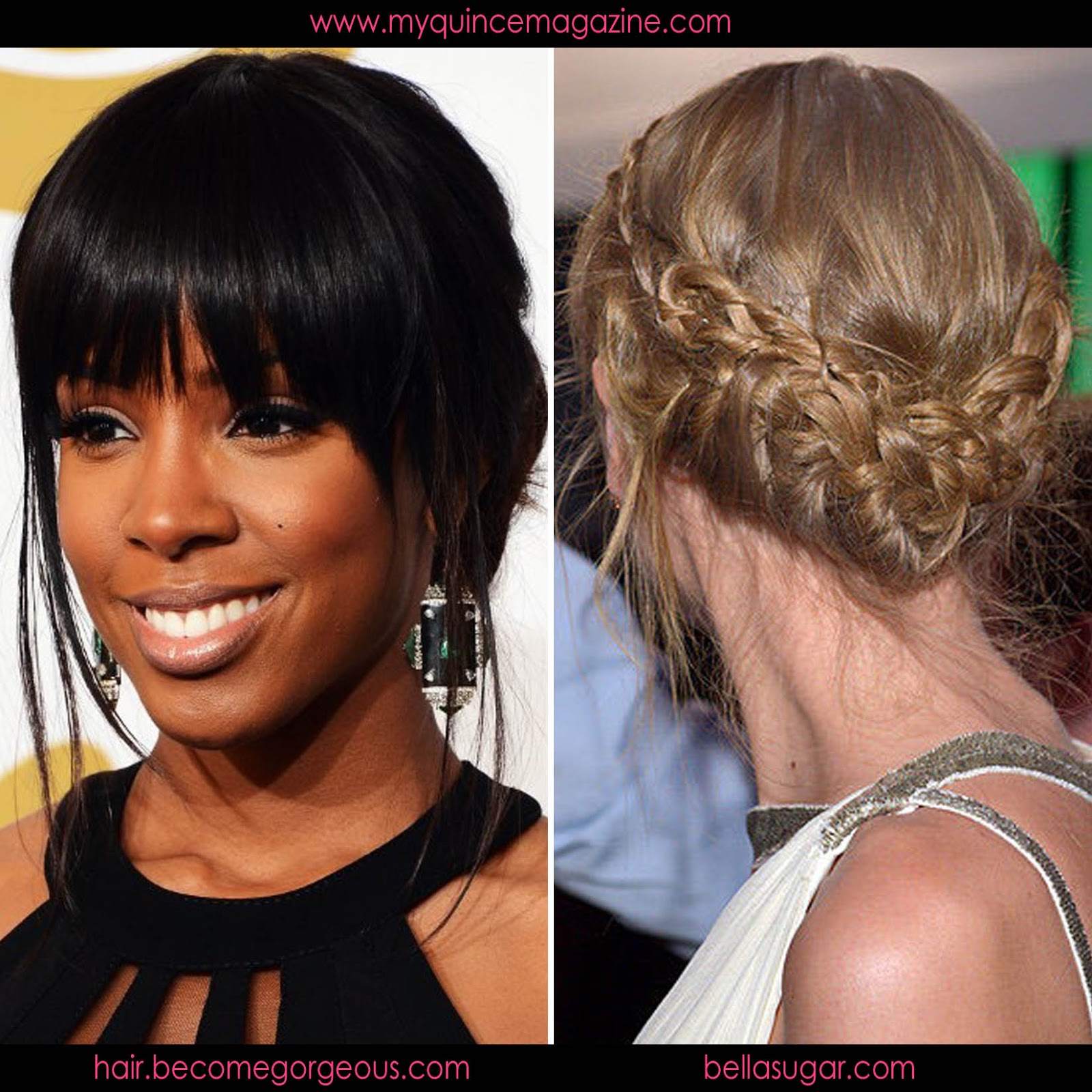 1. Fabulous Up-dos
Bangs looked hot last night as Kelly Rowland and Taylor Swift both rocked their elegant up dos. Swift's long hair was braided back into a lovely crown that outlined the back of her head while her bangs gave her a lightly tossed look.
Similarly, Rowland with her fab up do left her bangs in the front, perfect for showing off her edgy earrings. Try this look with cat-eye eyeliner and natural make-up to make your eyes pop.
2. Loving the Red
Kaya Jones and Skylar Grey both looked stunning in floor-length cherry red gowns and matching lipstick. Though the colors were alike, Jones had a bedazzled accent belt with plunging v-neck for a classy yet updated Grecian goddess look. On the other hand, Grey's gown sparkled all over and flowed straight to the floor. Use this bold color in your quince with a bold red lipstick or as your dress color and be sure to add a little sparkle for a true Hollywood look.
3. Ombre Hair
The new trend for hair this season is ombre hair, where your hair color becomes lighter from the roots to the tips. Ali Tamposi and Rihanna made this look dazzling with their light beach waves and light make-up. If your quince dress is jewel-toned like these ladies' dresses, dangling earrings and thick lashes will play up your face without looking too harsh. Also, this hair treatment is fun to experiment with different hairstyles.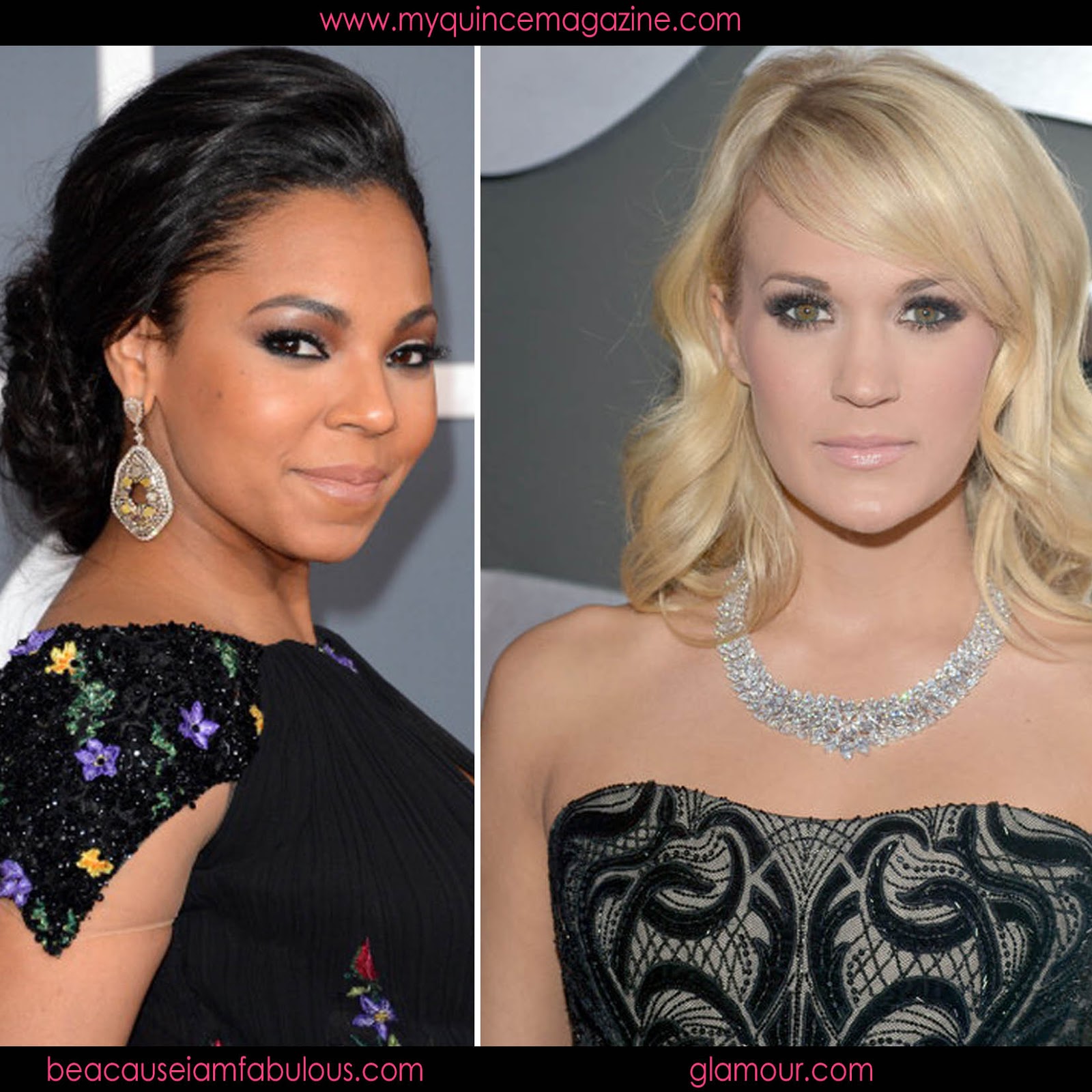 4. Nude Lips
Finding the right make-up is more than just the eyes; it's also the lips. Carrie Underwood and Ashanti paired a smokey-eye with nude lips for a flirty look that requires nothing more than light blush and long lashes. Like these songstresses, you can wear your hair up or down and still look fabulous. Whether you're wearing a diamond-studded necklace like Underwood or beautiful earrings like Ashanti, it's hard to go wrong with nude lips.
5. Minimal Accessories
Sometimes a little bit is a good thing. Kady Z and Chrissy Teigen wore their ensembles best with minimal accessories because all eyes were on the dress. Likewise, long hair in its natural wave was seen with long earrings while up do's had either diamond studs or medium-sized earrings and a couple of bracelets. For your quince gown, bracelets, necklaces, and earrings do not have to be worn all at the same time. Think small and have your smile be your best accessory, with a few bracelets of course.
What was your favorite Grammy trend?
– By Jennifer Jimenez
You might also like:
GET QUINCE IDEAS: 6 Fall Quinceañera Trend
QUINCE COLOR IDEAS: Premios Juventud 2012
QUINCE DRESS IDEAS: Red Carpet Trends