QUINCE COLOR IDEAS: Premios Juventud 2012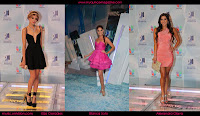 Airing last Thursday, Univision held their 2012 award show, Premios Juventud for outstanding artists, athletes, and actors. Prince Royce was really the king of the night as he won seven awards including Favorite Tropical Artist and Favorite Ballad. Other winners included Shakira for Best Moves and Modern Family's Sofia Vergara for Favorite Latino Actress. The Hispanic Youth Awards were also very big in fashion! Here are some trends we found that you want to incorporate in your quince.
1. Pretty Pastels – Ivanna Rodriquez and Alexandra Olavarria chose to shine in lighter shades. Pastels are the colors for a classy feel in a dress. Try a feminine approach with pastels while spicing up your outfit. Ivanna brought a pop of color to her outfit and paired the lavender hue with bright pink heels and a bold red lipstick. Whether a flowing skirt or a short mini, each dress looked great paired with a simple hairstyle and natural makeup.
2. Daring Darks – Cristina Blackwell and Eiza Gonzalez each looked beautiful in their daring dresses. Dark colors are perfect for a club atmosphere or to match the daring theme of your quince. Blackwell and Gonzalez paired their beautiful dresses with a gorgeous up-do and neutral clutch. Gonzalez's intricate hairstyle is a great example of pairing a summer fresh look with minimal accessories.
3. Beautiful Brights – Ana Patricia and Blanca Soto looked great in their bright colored dresses. Amaze your quince guests in a bright quince dress or with a full court of color. Reds and pinks are the colors that will catch the attention of all those around you. A trend in hair is finding playful ways to keep the heat out but eyes on you. Patricia curled her hair and put it up in a pretty ponytail while Soto braided her long hair. Natural makeup is a really big hit this summer; try nude lips and dark mascara to bring out your eyes.
What's your favorite quince hue? Check out our quince dress gallery for more dress ideas.
-By Jennifer Jimenez