Latest Hairstyles for Your Quince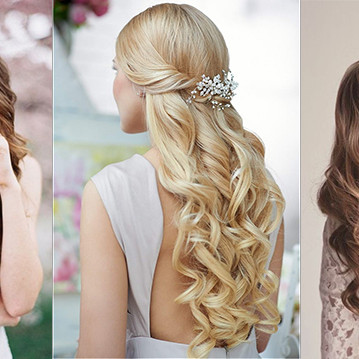 Let's face it—sometimes we all have those bad hair days that even bobby pins and hairspray can't help, but what's a quince girl to do on her special day? Don't let a hairy situation stop you from looking your best at this memorable event. Try these hairstyle tips and tricks to tame your mane today!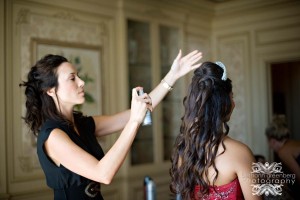 Hair Prep Basics
Before you can dive into the hairstyling right away, it's important for your hair to be prepped well before you try to do anything with it. Quince girls, this means keeping up with your daily routine weeks before your actual birthday celebration. Eat healthy and drink plenty of water (it affects your hair too, believe it or not!) and don't excessively wash your hair because you may end up stripping your hair of its natural oil. Remember to avoid showering with extremely hot water or blow-drying your hair too often. Heat damage to hair is what causes it to look "fried" and lose its soft texture. In addition, whenever using heat products, don't forget the heat protectant product!
Loose Waves
For a laidback, beach-like look, opt for natural waves. This is perfect for quince girls who want to look polished but don't want to fuss with their hair. Begin by parting your hair as you naturally would, combing out all tangles. Then, apply heat protector product to ensure that you don't damage your hair. Next, separate your hair into sections and begin loosely braiding, securing each braid with a hair tie. Once you've finished braiding all sections of your hair, carefully go over each braid from top to bottom with a flat iron. The hair straightener will lock in the waves. Once you've finished going over each braid with the flat iron, untie hair and fluff with fingers to loosen and add volume. Finish off with hairspray to set your style, and you're good to go!
Half-Up Curls
A popular trend is incorporating a hairpiece into your 'do. For an elegant look, begin by French braiding starting at the crown of your head, when you get about 1/3 of the way down, stop at your ear and secure with clear hair ties and bobby pins, if needed. Then, take a curling iron and begin wrapping 1-inch sections of hair around the barrel to create waves. Finish the entire head. To cover the pins and ties, secure the hairpiece of your choice over. Your hairpiece should be a reflection of your style: rhinestones, jeweled combs, and even flowers are great additions to finish off your look!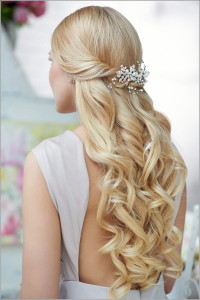 Simplistic Ponytail
Here's a new twist on the classic ponytail! Begin the look by gathering your hair into a high ponytail, leaving out a strand from the bottom. Don't forget to take a comb and tease your hair to give it volume at the crown. Do this by holding a section from the top of your head straight up and combing the hair behind it in a downward motion. Once you've secured your pony, take the strand of hair you left out and wrap it around the hair tie to cover it, securing it with a bobby pin. Lastly, take a large barreled curling iron and wrap sections around it to create loose, cascading waves. Finish off with a bow, hairpiece, or flower of your choice—or simply leave it as gorgeous as it is already!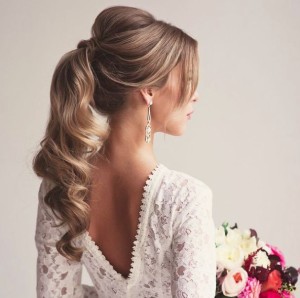 Whether you're looking for dramatic flair or a simple style, your hair shouldn't be left out of your quinceañera beauty routine. You can always go to a hair salon and ask them for their recommendations if you have no clue where to start. Bringing a photograph also will help your stylist to visualize which style you're aiming for. You can always try to recreate your ideal hairstyle before the big day to make sure that is the style you want. Whatever you decide, get ready to shine on your 15th with luscious locks!
-By Bonnie Wong