2015 Teen Choice Awards: Red Carpet Summer Fashion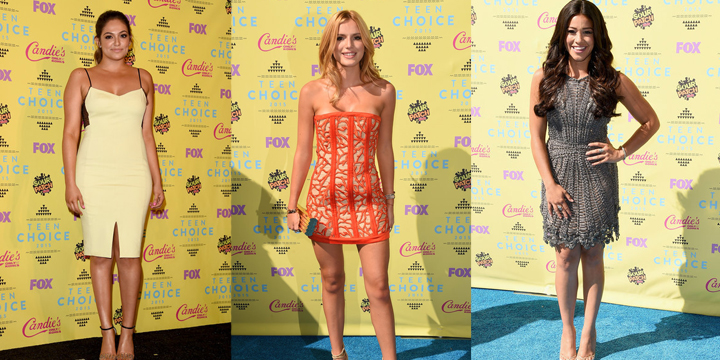 The summer has only begun heating up! The Teen Choice Awards made a cool splash this past weekend. Hosted by Josh Peck, Gina Rodriguez, and Ludacris, the 2015 Teen Choice Awards aired Sunday, August 16 live on Fox. This awards show let teenagers vote for their favorite icons in pop culture in categories such as Choice Male Athlete, Choice Music: Female Artist, Choice Model, and more. Here, we feature some of the winners—chosen by you!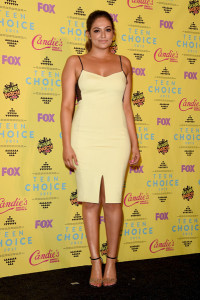 Choice Web Star: Female—Bethany Mota
It's no surprise that Bethany won in this category—and for the second year in a row! Competing for the same award included Eva Gutowski, Grace Helbig, Jen McAllister, Michelle Phan, and Lele Pons. Bethany has made videos on YouTube for her channel Macbarbie07 since 2009. Since then, Bethany has grown greatly on social media, starred on Dancing with the Stars, produced her own clothing line with Aeropostale, and produced her own songs including "Need You Right Now" and "Be Who You Want to Be." On Twitter, Bethany said, "We did it!!!!!! I wish I could put into words what I'm feeling right now. THANK YOU. THIS IS OUR ACCOMPLISHMENT not mine. Holy ahvdjxybdkxh," expressing her excitement. Later, she followed up with another message saying, "Thank you guys for allowing me to be myself and make content that I love. You are my world and #MOTAFAM is forever."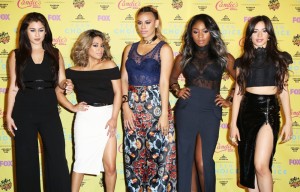 Choice Summer Song—"Worth It" by Fifth Harmony
Fifth Harmony was nominated for a whopping 7 categories. Amongst these nominations included Choice Summer Song, Choice Fashion: Female Hottie, Choice Music: Female Artist, Choice Music Single: Group, Choice Music: Love Song, Choice Summer Music Star: Group, and Choice Fandom, winning the titles of the first 3 at the Teen Choice Awards 2015. In response to winning the "Choice Summer Song" category, they stated, "It's our first surfboard! We're so excited thank you guys so much for anyone who voted and anyone who has been supportive of us through this whole process. This is amazing. A Teen Choice Award is kind of ridiculous." The powerful girl group gained popularity in 2014 and has produced hit singles such as "BO$$."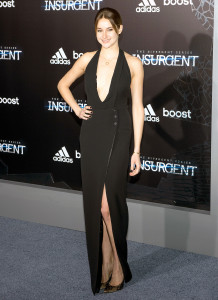 Choice Movie Actress: Action—Shailene Woodley, The Divergent Series: Insurgent
Alongside Jennifer Lawrence who also won for Choice Movie Actress: Sci-Fi/Fantasy, Shailene proves to be a fierce and powerful actress on the prowl in this sequel to the Divergent Series. Standing for female empowerment, style, and class, Shailene serves as the perfect role for heroine Tris, starring alongside Theo James who plays Four as they fight against Jeanine (played by Kate Winslet) and the Erudite class who is taking over the city in this post-apocalyptic themed movie which hit theaters on March 20, 2015. Shailene began modeling in commercials at the mere age of four and then began fulfilling acting roles in Replacing Dad, The District, the O.C., Crossing Jordan, The Secret Life of the American Teenager, The Descendants, and more.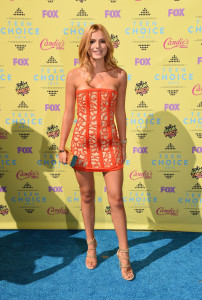 Choice Movie: Villain—Bella Thorne, The Duff
It's surprising that this sweetheart could win for best villain, proving that she can be a great, convincing actress! Accompanied by her boyfriend Gregg Sulkin, Bella Thorne graciously accepted the award for her role as mean-girl Madison Morgan who torments Bianca Piper (played by Mae Whitman) through societal standards of beauty, romantic compatibility, and friendships. Bella has an extensive resume spanning over forty appearances in film and television, including her breakthrough on Disney Channel's Shake It Up in addition to philanthropy work, partnership with Neutrogena, music production, and many more awards.
The 2015 Teen Choice Awards proved to be a success with some of the hottest stars on the web, film, and television winning in major categories. Here are just a few of the accomplished actresses, music artists, and YouTube sensations that got to take home the highly coveted surfboard!
Check out these Red Carpet looks, which one is your favorite?
-By Bonnie Wong