Ways to Getting the Best Quince Pictures Possible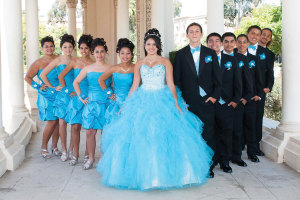 The big day is vastly approaching and everything has been taken care of except for one major detail: the photos. The photographer needs to be booked and you may have no clue where to find the perfect one. After reading this article, you will know the ins and outs to consider before finding that ideal photographer, choosing the best backgrounds, which style to go with, and which key memories you want to cherish forever.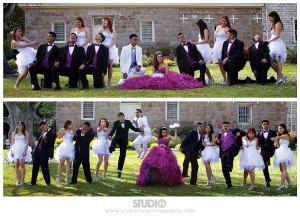 Choosing the Ideal Photographer
When narrowing your choice in a photographer for your quince, personality is key. Make sure that they are organized and responsible enough to capture all of the key moments throughout the day. It is also important that you, along with your family, are comfortable with the photographer so that everything be smooth sailing without any conflict arising. Go over the pricing of every detail, such as the photo fees, the prices of keepsakes and albums, prints, maybe even see if a photo montage can be thrown in there. It would also help when searching to keep in mind to look that the photographer specializes in quinceañeras. When you do decide on a photographer, go ahead and do some research on them by checking out their previous work. Once everything is settled, don't forget to ask about turn-around times and find out when you should expect for the prints and albums to be ready.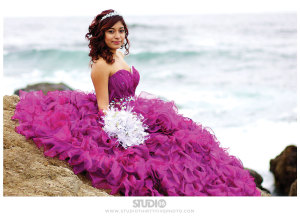 Setting up the Best Background
The background is essential to the photos taken because it represents you and your style. Do you want a more lavish style with bright colors and surrounded by your guests? Or do you prefer a more simplistic style with a nature-setting backdrop with just you posing? Both of these can be combined, especially if you want some of yourself, and others with your family and friends. The best poses involve you with your chambelanes or damas at your side. The key elements are lighting, decorations used, if any, and of course the locations where the pictures are taken at. Some should be taken in the venue you are hosting the celebration, that way the beauty and essence of it all is captured and remembered for years to come.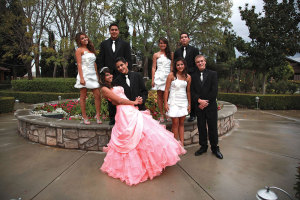 Which Style is Most Appealing?
There are many styles of pictures to choose from. You must pick what is best suited for yourself. Some styles of pictures include traditional quinceañera photography in which they are in the form of portrait photos with posed individuals. There can also be candid shots taken in that no one is posed in these and that the natural setting and expressions of people are emphasized. If both of these sound like your style, you can choose to have both mixed so that you are guaranteed posed, serious shots, and also some fun ones thrown in as well. There may also be posed and angled shots for a fun twist, or a more vintage look to set some pictures apart from the others. Props can be used such as a bouquet of flowers, or even wearing your sparkling in the sun tiara. Finally, decide if you want these shots to be more bright and colorful or simplistic in nature.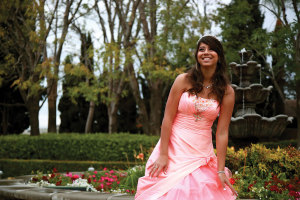 Key Memories to Capture
Choosing the key memories to capture is rather important; because once these moments are gone, they're gone. Go over with the photographer which memories are most important to you so that they don't get missed. Some girls want all day coverage, starting from when they are getting all dolled up all the way to the end of the day with people saying goodbye. Others just want the reception covered, or just the ceremony covered. You may even want to incorporate a photo walk to get some stunning shots or silly candid shots. Another idea is to take some pre-quince photos so that everyone is posed and looking their absolute best without the weather to interfere.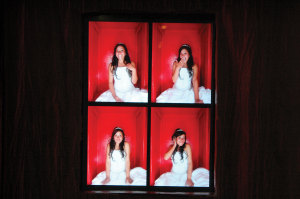 Some key elements in these pictures should show the love between you and your parents who helped put most of your quince together. Other family members and friends may want to be included as well. The grand entrance of you entering the celebration would be a nice memory to have, as it will be a very nervous, but exciting moment.
Once all of these aspects are covered, there is no doubt that your quince pictures will turn out even better than expected. Your guests will comment on how creatively amazing they all came out, and how you are the shining star in them all.
-By Andrea Montoya