CELEBRITY QUINCE TRENDS: Raini Rodriguez's TV Quinceañera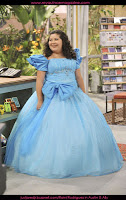 Get some quince ideas on the upcoming episode of "Austin and Ally" on the Disney Channel. Trish (Raini Rodriguez) is going to be celebrating her quinceañera. A big time club owner will be performing at her quinceañera, so the gang plans a stand-out performance to ensure that Austin (Ross Lynch) gets noticed.
Get a glimpse here:
"Club Owners & Quinceañeras" premieres Sunday, February 19th @ 8PM ET/PT on Disney Channel.
Raini's character is not sure she wants a quince and all the traditions that her parents wants her to follow, what are your dilemma's when it comes to your quince?
You might also like:
6 FUN TWISTS IN QUINCE TRADITION