THE RIGHT DRESS DRESS FOR YOUR BODY TYPE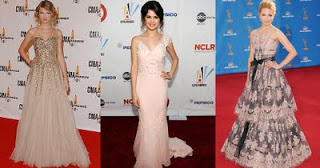 With so many different designs, it can be difficult to find that perfect dress that flatters you but we have categorized styles by body type to make your search easier. These styles are sure to show off your best assets and our tips will help you create any look that you want whether you want to look dramatic and glamorous or girly and fun.
Nina Dobrev – Zoe Saldana
FULL BUST
Nina Dobrev's one-shoulder dress with its draping will surely minimize your upper body and accentuate your attributes. You can also wear a dress like Zoe Saldana's which has an ombré effect- where one color graduates seamlessly into another- to draw attention to the legs, placing less emphasis on your bust. The slit keeps the dress playful while making it more dramatic.
Selena Gomez – Jessica Lowndes
PETITE
Choose a slim silhouette to make your tiny frame look longer. Selena Gomez's dress brings notice to her subtle curves and her short train does not overpower her look. Also, elongate legs with a short dress similar to the one that Jessica Lowndes wore matched with high heels. The frills of Selena Gomez's dress and the bubble skirt of Jessica Lowndes' dress are perfect for a fun and flirty look.
Venessa Hudgen – Diana Agron
CURVY
Show off your curves while emphasizing your slim waist in form fitting dresses. Vanessa Hudgen's flirty mermaid outfit is figure hugging and definitely demands attention. Diana Agron's long black ribbon cinches in at her waist so that her body does not look lost among the lace and frills.
Amanda Seyfriend – Taylor Swift
TALL & SLENDER
Look like a goddess in a long train and full skirt, similar to Amanda Seyfriend's dress. The striking metallic bodice and understated bottom balances out Taylor Swift's look. Delicate fabrics, like Taylor Swift's bottom, soften her look. The full skirts add volume while creating a feminine figure.
Check out our Quince Dress Gallery for dress ideas!
-By Lauren Ho