Quince Make-Up Tips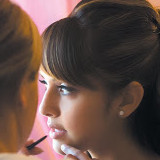 Here are tips for keeping a fresh face when changing your look from day to night on your quince fiesta. These tips will help you change your makeup from soft and natural during the day to
dramatic and bold for the night!
Day look for your Quince:
Face: A tinted moisturizer will keep your skin looking fresh and adding a light natural pink blush will give your skin a little bit of color.
Eyes: During the day, stick with the light shades for eye shadows and use a light concealer for that fresh feel look.
Lips: A nude, pink sheer lipgloss will go a long way and brighten your smile.
Night look for your Quince:
Face: Since the night calls for sweating it out on the dance floor, use a loose powder instead of liquid to avoid shiny spots on your face.
Eyes: The night is for a more dramatic look like smoky eyes, eyeliner, darker shades of eye shadows and bold mascara.
Lips: Your lipgloss should be a darker shade of pink or red, but not dark enough to take the attention away from your daring eye makeup.