MY QUINCE NEWS – JUNE 2011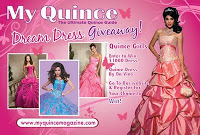 Spring is here MQ girls and here we will provide you with the best places to visit when planning your quince and quince spring trends.
We watched the royal wedding and it was wonderful. Have your own version of the royal wedding by having a royal quince! Hold your quince at a glamorous and fun hotel like the Hilton Universal. This luxurious hotel is just a short distance away from Universal Studios and Universal City Walk which provides lots of entertainment, dining options, and shopping places. Now that's what we call being treated like royalty! Check out other great sites in your area in our Reception Facilities list.
Wow your guests with an impressive cake to go with your high-class location by buying it from La Favorita Bakery. The bakery offers customers a limo special so you can arrive in style to your event along with getting an unforgettable and yummy cake.
Decorate your quince based on this season's hottest trends. Go bold with bright colors such as coral, hot pink, or orange. Or choose pastel colors which create a feminine and elegant atmosphere. Have a bowl filled with all kinds of colorful flowers to create a beautiful springtime arrangement or sprinkle flower petals over each table.
Once you decide on the color scheme for your quince, pick a dress to complement your colors. Go to Moda 2000 and find a wide array of dress styles ranging from fun to flirty to girly. Check out our quince dress gallery!
Last but not least, don't forget to enter our Dream Dress Giveaway. The deadline is the end of May so enter now before you miss the chance to wear the perfect dress for your quince!