MY QUINCE NEWS – January 2012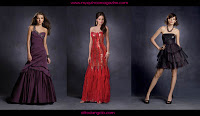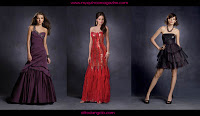 Happy New Year, as we've made the transition into a new and exciting year, 2012 holds endless possibilities and opportunities for girls planning the perfect quince. The New Year brings plenty of fresh and original fashion looks for quince girls. Channel the popular characters from the Twilight franchise by selecting a quince dress full of mystery and romance. Whether your style is subtle and classy like Bella, feminine and trendy like Alice, or elegant and glamorous like Rosalie, you can find that perfect outfit.
Be inspired by Bella's fashion in a bold colored dress that is attention-grabbing yet not too lavish. A royal blue or dark purple will make you stand out in a crowd but pair your dress with minimal accessories, like simple earrings or a thin necklace. Alice is flirty and fun so look for short dresses with feminine details, such as frills, sequins, or rhinestones. On the other hand, incorporate Rosalie's style into your outfit with a floor-sweeping and body-hugging gown. Accessorize with chandelier earrings to complete your look. View Twilight inspired dresses at alfredangelo.com and check out our quince dress gallery for other quinceañera dress ideas!
Now if you want real inspiration, view the latest quinceañera fashions at the upcoming Latino Bridal & Quince Expo in Dallas, TX on February 26th and the Teen Party Expo in Los Angeles, CA on March 25th. Showcasing an array of quince dresses, you can find the one that's right for you. It's never too early to get a start on your search for the perfect quince dress. In addition, these events are great opportunities for you to find and chat with great quince vendors.
This year's fashion also focuses on your chambelanes. Don't miss our latest additions to our Tuxedo and Suits Vendors to help decide on your chambelanes' look. Tuxedo Plus, SuitFellas, La Suit Guy (Giorgio Rossi/Paolo Cellini) are all featured stores that provide top-quality and affordable suits and tuxedos.
Just started planning for your quince? Never fear because we at MY QUINCE are here to offer advice and news on all aspects for quinceañeras. Follow us on Twitter @MyQuince or like our page on Facebook for up-to-the-minute information. Furthermore, be on the lookout for our brand new MY QUINCE app for iPhone, iPad, and Android!
– By Lauren Ho