MY QUINCE NEWS – DECEMBER 2010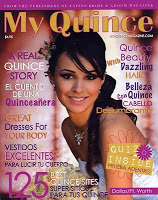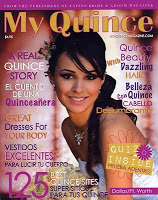 Everyone here in My Quince would like to wish you Happy Holidays and may the excitement of the season be with you. Don't let the sch­ool exams, gift giving, plus on top of that preparing for you quince cause you stress in this time of joy and happiness. Get help from our creative vendors, like
Beauty Illusions
for a flawless look or
El Pueblo Bakery
for that delightful cake or even
Jobyna's Off Rack
for the special dress.
Are you feeling lost on where to have your quince? Are you aware of what sort of things you have to prepare for your big event? How are you going to get your makeup done, hire a make-up artist? What about your hair? You cannot neglect the hair on the day where you are the center of attention. And most importantly, don't forget the dress; it has to be fabulous and flattering. Sometimes preparing for your quince can be overwhelming and you'll need some tips and guidance through it.
My Quince magazine
and
MyQuinceMagazine.com
offers information to help you through the to-do-list for your big day to go as smooth as possible. Don't miss our latest issue out in newsstands and online!
Now for all those quince girls in Dallas getting ready for their big day, we have recently launched My Quince in Dallas, Texas! Providing the know how to all the quince girls in Big D seeking a bit of help. Not only that, but we have also been featured on American Latino TV because of our success in assisting many quince girls accomplish having their dream quince go as planned.
Be sure to save the date for Teen Expo on March 13, see our
event calendar
for more information. Where you will be able to get a
FREE
issue of our latest magazine, so be sure to attend.
Happy Holidays & Best Wishes for a Great New Year in 2011!