GET QUINCE TIPS: Dressing Your Damas and Chambelanes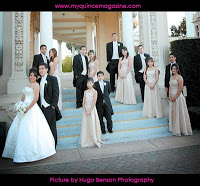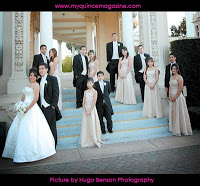 Dressing your court is a big task. Traditionally, your court consists of 14 people – 7 boys and 7 girls. Whether you have a smaller court or just all damas or all chambelanes, finding the right attire for them can be difficult. Your court should look impeccable because they will escort you as you make your grand entrance as well as stand beside you in your quince pictures.
1. Ask for assistance. When you and your court visit stores to pick your outfits, ask assistance from the employees there. These people are there to help you and they are knowledgeable about dresses and tuxes. They can provide tips and advice on how to pick the clothes to match the quince that you've been dreaming of. Don't be afraid to tell them what you're looking for!
2. Buy at the right time. You want to buy clothes for your court well in advance so that you can focus on other party details but don't choose them too early because then it's more likely that you will need to make alterations. Take into account weights can fluctuate in several months or your chambelanes may go through a sudden growth spurt. Aim to select the dresses and tuxedos 3 months in advance.
3. Be aware of last minute alterations. Relating to the previous tip about how things can change, alterations may be needed. Don't wait until your court is dressing up on the big day to realize that the clothes don't quite fit as perfectly as before. Two weeks before your quince, ask your damas and chambelanes to try on their outfits, including shoes. If clothes do need to be changed, you'll have enough time to exchange them or see a professional about making adjustments.
4. Research quince deals. Certain stores give deals or discounts if you notify them that you are buying clothes for your quince from that store or company. Friar Tux Shop allows you to register your quinceañera, which involves filling out your address and quince date, to receive savings when you order multiple tuxedos from them. You can register online at friartux.com. Also, follow our Facebook page for quince deals and discounts from lots of vendors.
5. Look online and through magazines. To get the exact styles of what you want or ideas if you're not sure about what you're looking for, browsing online and through My Quince Magazine is a great place to start. Suitfellas.com categorizes their tuxes and suits depending on styles and brands. Also, see below to check out our Chambelan Suit Gallery and look for store locations near you at our Formal Wear Vendor page.
6. Matching color accents. Your court should complement you and your style. Typically, their outfits match the color of your dress and your quince color scheme. Rather than having every article of clothing and accessories match in color, choose tasteful color accents. Having a black tuxedo jacket and black pants with a colorful tie and vest looks sharp and modern. Having your damas wear hair accessories or shoes in the same color looks pretty and put together. And instead of your damas wearing the exact same color as you, look for dresses in a different shade to yours.
Click here to find quince stores near you and click here to find formal wear stores near you.
-By Lauren Ho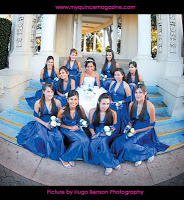 Browse through our Dama Dress Gallery