6 FUN TWISTS IN QUINCE TRADITIONS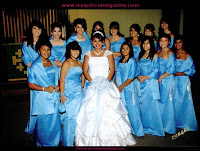 Traditions are passed down from generation to generation that represents the family's culture and heritage. While traditions are important and valued, you should also incorporate some of your personality and modern style into your quinceañera. That is why we present you with these 6 ways to add modern twists to long-standing traditions:
1. Ditch the doll.
A quince girl's "last doll" is a porcelain doll dressed to resemble her through features or the clothes that the doll wears. Instead of buying a doll that is then given to a family member younger than you, add more sentimental meaning by giving away a beloved stuffed animal or toy. Or instead of keeping the tradition of the "last doll", opt for a new activity instead such as a "last game" or "last girl picture" together with your family and friends.
2. Forget flats.
The tradition is that the quince girl exchanges her flats for high heels to symbolize her changing from a girl to a woman. Rather than wearing flats, express your individuality and playfulness by wearing sneakers instead. If your quinceañera is held outdoors, start off with sandals and then change into high heels. This small change isn't too radical but still fun and cute.
3. Downsize your court.
A standard court consists of 14 people – 7 boys and 7 girls – but don't feel that this is the number of people that you have to pick for your court. Consider having a court with all boys or all girls. To make the event more intimate and budget friendly, select less people. Your court should consist of the people that are the closest to you. Don't feel pressured because you think that you need 14 people with you on your big day. It's about quality, not quantity!
4. Do a different dance.
The "vals" is a dance between the father and daughter performed typically at the beginning of the party. The dance style is usually the waltz but don't be afraid to incorporate other styles too. At first, you can start off with the elegant waltz but then ease into a style that is livelier. Another alternative is that if there is something that you and your father have in common you can perform that instead. For example, singing a duet together is just as emotional as a dance.
Get some more ideas in Quince Dancing Moves.
5. Choose any dream quince dress.
In the past, quinceañera dresses were typically large white or pink ball gowns. Their dresses were similar to wedding dresses worn in the west. For your quince, choose a dress that you love and that flatters your figure. Show off your personality through your dress. If you are an energetic and active person, consider selecting a shorter dress in a daring color. A short dress is great for dancing and moving around while an eye-catching color will embody your upbeat and fun personality. No style and no color are off limits! Click here to find quince stores in your area.
6. Pick fresh jewelry.
Quince girls of the past generally wore simple and plain jewelry on their big day but for your quince go modern and daring. If your dress is minimally decorated, accessorize with bold jewelry making your own statement to your guests. You can also stand out by adding color to your jewelry! For example, instead of a simple bracelet, wear one with blue gems or colored stones. Instead of wearing a medallion chain necklace, wear a large and stunning necklace or flattering choker.
– By Lauren Ho